The rabbit - our imported pest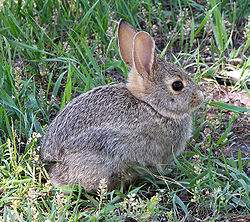 The cuddly animal, the rabbit, is the source of widespread devastation for over 100 years, multiplying "like rabbits" in the ideal conditions Australia offers.
While there have been many attempts to control the rabbit population with a combination of measures, it is sad to say that no measure, individually or together, can eradicate the problems.
Shooting is one of the methods which provides an instant impact on the rabbit population.
While Newcastle & Hunter Animal Control can't rid your property of rabbits, it can keep them at minimum levels.
Call us NOW to assist with your rabbit problems!